How to Install Third Party Themes in Win-7
As we know Windows Vista and Windows 7 come with a beautiful graphical style. There are several amazing and beautiful themes available with the latest version of Windows. But most of the users who have been using Vista or Win-7 from long time get bored with the default theme and want to install new third party themes.
Win-7 doesn't allow you to install third party themes because of security reasons. If you still want to install third party themes, you need to patch up system files to be able to install third party themes in Win-7.
What you have to do?
You have to edit 3 .dll files (themeui.dll, UXInit.dll, and uxtheme.dll)
Manually you can't edit these files but there are many free tools available over the internet that can edit these files with a click so you need not to worry about it.
Just follow below instructions to install third party themes in Windows 7 or Windows Vista.
Step-1:
Visit below URL and download UxStyle Core tool that will edit themeui.dll, UXInit.dll, and uxtheme.dll files. This tool is absolutely free.
uxstyle-core.en.softonic.com
Step-2:
Run the downloaded tool, accept the agreement and simply click on install button to complete the installation.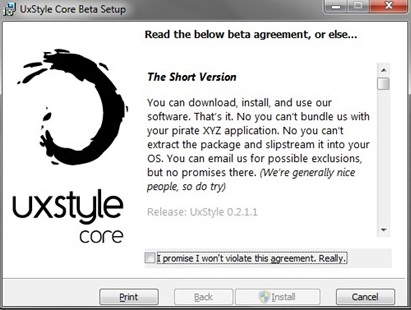 Step-3:
Reboot your computer.
Note: UxStyle Core tool has no user interface. (When you install this tool, it simply edit themeui.dll, UXInit.dll, and uxtheme.dll files to be able to install third party themes)
Step-4:
Now download your favorite Win-7 theme and copy all the files to below location.
START > RUN > Type %windir%\Resources\Themes > Hit Enter
Manually open C:\Windows\Resources\Themes folder, here C:\ is windows installation directory.
Step-5:
Now simply double click on the downloaded Windows Theme File to apply the theme.
Step-6:
Your new Win-7 theme has been installed. Enjoy the new theme.
Note: If you have downloaded theme with an automated installer, you need not to follow Step-1 to Step-3, these themes automatically edit the system files and install the theme.
Must Read:
How to Protect your Zip file with a Password in Windows
How to Restore Firewall to Default Settings in Win-7
I use SEMRush for Keyword Research & Boost Organic Traffic. Do You?
Highly recommended SEM & SEO Tool for overview of Traffic, Keywords, Backlinks and more. You can search your competitors URL to analyze keywords & crush your competition.
Get Free Blogging Tips & Technology updates in your Email !!!
The following two tabs change content below.
Latest posts by Anil Kumar (see all)