Free PDF Writer – 5 Best Tools to Create PDF File
As the license prizes are increasing day by day so there is a huge demand of free or open source software's. Here I have listed some free PDF writers that can create a PDF document from any application.  When you install these PDF writers a pseudo printer is created in your system. If you want to create a PDF document then you have to just print it to the PDF writer and your document will be created. I am using Cute PDF writer and it is very easy to create a PDF document.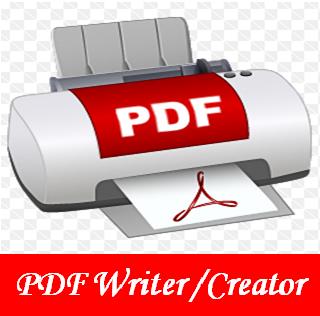 There are many free PDF writers are available over the internet but here I am listing 5 top PDF writers.
1). Cute PDF Writer
Cute PDF writer runs as a standalone program and free for both commercial and non-commercial purpose. It supports Microsoft Windows 98/2000/XP/2003/Vista/7/8 (x86/x64) and recommended PS2PDF converter such as Ghost script.
Download Cute PDF Writer ( http://www.cutepdf.com/products/cutepdf/writer.asp)
2). PDF Creator
PDF creator runs as a standalone program and compatible with both 32bit and 64bit. It digitally signs your PDF documents to ensure that you are the only author and the file has not been modified. It has a feature to encrypt PDFs and protect them from being opened and printed etc
Download PDF Creator (http://sourceforge.net/projects/pdfcreator/)
3). doPDF
DoPDF runs as a standalone program and it is small, simple and different PDF qualities. Using doPDF you can convert your documents to PDF in two ways i.e. Print to PDF via the virtual PDF printer and convert to PDF using the doPDF Startup window.
Download doPDF Writer ( http://www.dopdf.com/)
4). Bullzip PDF Printer:
It runs as a standalone program and can be downloaded from following location. It is compatible with both 32bit and 64bit. Bullzip PDF Printer works as Microsoft Windows printer and it allows you to write PDF documents from virtually any Microsoft Windows application.
This software is FREEWARE with some limitations, which means that it is FREE for personal and commercial use but up to 10 users only.
Download Bullzip PDF Printer (http://www.bullzip.com/products/pdf/info.php)
5). PDF24
PDF24 runs as a standalone program and supports document merge, drop and drag interface, selectable quality settings etc. It is compatible with both 32bit and 64bit.
This is 100% free PDF Creator and PDF Convertor supplied by PDF24.org which works with all Windows programs and has a lot of features like it create PDF files from almost any Windows application, merge, split, re-order pages, and password-protect your existing PDF files.
Download PDF24 Creator (http://en.pdf24.org/pdf-creator-download.html)
I use SEMRush for Keyword Research & Boost Organic Traffic. Do You?
Highly recommended SEM & SEO Tool for overview of Traffic, Keywords, Backlinks and more. You can search your competitors URL to analyze keywords & crush your competition.
Get Free Blogging Tips & Technology updates in your Email !!!
The following two tabs change content below.
Latest posts by Anil Kumar (see all)