8 Steps to Import Contacts from CSV File to Outlook
In my previous post you learned "how to export outlook contacts to a CSV file".
In this post you will learn how to import contacts from CSV file to Outlook (Microsoft Office Outlook 2003, 2007 and 2010).
You can use following steps to import contacts from a CSV File to MS Outlook.
Step-1: Select "File" menu > click on "Import and Export" option.
Step-2: Select "Import from another program or file" option > click on "Next" button.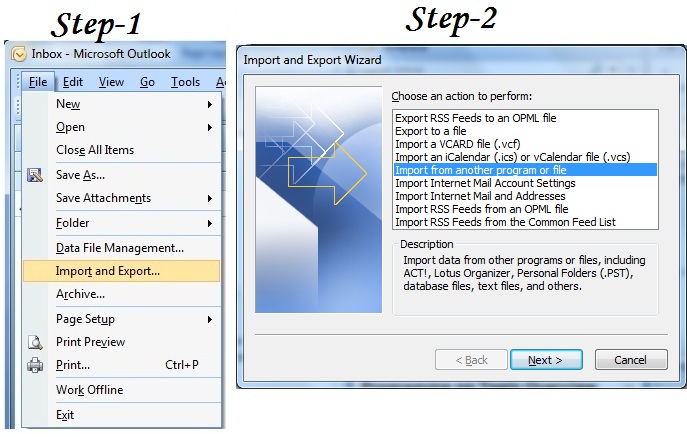 Step-3: Now select "Comma Separated Values (Windows)" and click again "Next" button.
Step-4: Choose "Browse" button to select the contacts file and select "Do not import duplicate items" option > click on "Next" button.
Step-5: Select the "Contact" folder to import all your exported contacts > click on "Next" button.
Step-6: You can choose default option to import because outlook automatically maps all the fields but you can click on "Map custom fields" option.
Step-7:  You can check all the columns from CSV file are mapped correctly. If there is any discrepancy then correct the mappings and click on "OK" button.
Step-8: Now click on "Finish" to import contacts from CSV file to outlook.
How to Create a Meeting Request as an attached calendar link
How to Schedule or Reschedule a meeting request in Microsoft Office Outlook
I use SEMRush for Keyword Research & Boost Organic Traffic. Do You?
Highly recommended SEM & SEO Tool for overview of Traffic, Keywords, Backlinks and more. You can search your competitors URL to analyze keywords & crush your competition.
Get Free Blogging Tips & Technology updates in your Email !!!
The following two tabs change content below.
Latest posts by Anil Kumar (see all)